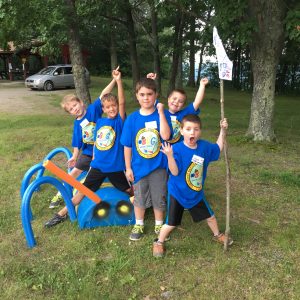 Welcome to the Five Rivers Council, Boy Scouts of America and the greatest youth development program in the World!
Scouting IS FOR YOUR FAMILY and every family in our communities. At a time when many seem focused on division, Scouting provides an opportunity for everyone to come together and be part of the fun and adventure. We offer safe, fun and educational age appropriate programs for boys and girls from kindergarten to 20 years of age, and young women from age 14
to 20.
Whether your child wants to go camping, provide service to their community, race pinewood derby cars, learn about STEM activities, or just hang out with their friends, we offer it all. The Council provides first rate Scouting programming and facilities throughout the Twin Tiers of New York and Pennsylvania, serving the youth of eastern Allegany, Chemung, southern Livingston, Schuyler, Steuben, and western Tioga counties in New York, as well as Bradford, Lycoming, Sullivan, and Tioga counties in Pennsylvania.
Still Scouting – Click here for a variety of online resources to keep your Scouting program going virtually
Sporting clays is a shotgun shooting game in which clay pigeons are presented to the shooter in ways that mirror the flight pattern of game birds, or occasionally rabbits, in their natural habitats. Sporting clays is exciting, challenging and LOTS OF FUN, no matter if you're a beginner, novice or experienced shooter. The shooting grounds are laid out in stations also called stands & you shoot between 4 to 6 clays per station.
Cub Scout Summer Passport
The 2020 Cub Scout Summer Passport has arrived and offers numerous way to stay active in Scouting while having all kinds of fun, all summer long. Download the PDF here.
Tenderfoot 5K/10K Extended Through July
The Tenderfoot 5K/10K has been successful and is getting people out and moving. This flexible virtual race allows you to walk, run, hike, or even do it on a treadmill at your preferred time and place before the end of July. Just follow social distancing guidelines. You time yourself and send us a selfie and your time to Fiveriverssocial@gmail.com.
This event is open to all Scouts, Scouters, Family, and to the General Public. Let's get out there and get in shape while raising some money for a great cause. https://scoutingevent.com/375-37984
COVID-19 Coronavirus.
Unit Reopening 7-20: Town Hall Webinar
NYS Childcare & Day Camp
NYS Sports & Recreation
Updates on Summer Camp operations and Unit Reopening Procedures part of town hall discussion, May 29, 2020 at 6pm.
Town Hall Friday, May 29th at 6:30 PM – Learn about next steps open opening unit activities and summer camp plans.
Click here for the video recording of the Town Hall on 5/29/20
Please see attached letter from the Council continuing to suspend all Scouting Activities in the Council through May 30, 2020.
Please click her for a Training on Using online video tools
Please click here for a National FAQ regarding advancement.
Please click here for a Council FAQ. This should help answer many of your questions about Council, District and Unit operations to help keep Scouting going.
Please click here for Updates regarding COVID-19 and Scouting.