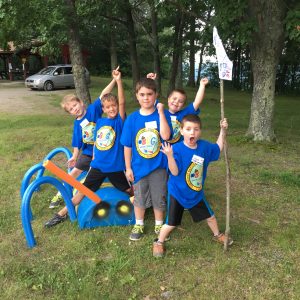 Welcome to the Five Rivers Council, Boy Scouts of America and the greatest youth development program in the World!
Scouting IS FOR YOUR FAMILY and every family in our communities. At a time when many seem focused on division, Scouting provides an opportunity for everyone to come together and be part of the fun and adventure. We offer safe, fun and educational age appropriate programs for boys and girls from kindergarten to 20 years of age, and young women from age 14
to 20.
Whether your child wants to go camping, provide service to their community, race pinewood derby cars, learn about STEM activities, or just hang out with their friends, we offer it all. The Council provides first rate Scouting programming and facilities throughout the Twin Tiers of New York and Pennsylvania, serving the youth of eastern Allegany, Chemung, southern Livingston, Schuyler, Steuben, and western Tioga counties in New York, as well as Bradford, Lycoming, Sullivan, and Tioga counties in Pennsylvania.
Still Scouting – Click here for a variety of online resources to keep your Scouting program going virtually
Camping in the Five Rivers Council – Updated 9/20
NYS has recently clarified their position on non-family camping in NYS during the COVID crisis. NYS has determined that non-family based camping is not allowed in NYS.
The Five Rivers Council is providing the direction:
No Scout Group, Unit, Patrol or Den will camp in New York State regardless of location (campground, state parks, on the trail or any other non-developed land – farm, country, etc)
Camping in PA or any other non-quarantined state is allowed provided:
The group is no larger than a patrol or den (8-12 Scouts plus leaders)
Unit Safety plan has been submitted and approved
Every attendee has completed and signed a hold harmless waiver (the Unit must be in possession of these waivers at all times and kept on file for at least 1 year)
Alternative Camping:
While we understand that this is hard on all of us and our Scouts, we understand the importance of keeping Scouting safe. Please consider keeping your program going with alternative camping methods. Many of our Units have done these with great success.
Waiver of Liability – Click to download
Tech Support (Member Care) – My.Scouting, Scoutbook, Online Training, Internet Advancement, Internet Rechartering, Commissioner Tools
Scouting has many online tools to help all volunteers do their jobs. However, sometimes issues arise. If you are having trouble with any of the BSA online tools please submit a ticket and one of our experience volunteers will help you solve it. This was formerly offered by the National Office as Member Care but has been closed and is now a local Council service.
If you have a strong skills in the use of any the online tools and would like to be a tech support member please click here. Please include the online tools that you can provide support in.
Geofencing Recruitment
Geofencing is a great way to market your recruitment efforts. Geofencing works with Facebook and identifies potential interested demographics (families) in your area and promotes your event. The amount and size of the promotion is only limited by the amount of money you put into it. The Council will provide $7 to every Pack that wants to use it and however much more you choose to contribute. This has been shown to increase recruitment efforts by up to 8%!
Click here to learn more and sign up
Gift Certificates
Gift certificates are a great way to support a Scout. Gift Certificates are good for 1 year from date of purchase and can be used on anything from Summer Camp to patches to membership. NOTE: The gift certificates are only valid in the Five Rivers Council and purchases made in the Five Rivers Council.
COVID-19 Coronavirus.
Unit Reopening 7-20: Town Hall Webinar
NYS Childcare & Day Camp
NYS Sports & Recreation
Updates on Unit Reopening Procedures part of town hall discussion, May 29, 2020 at 6pm.
Town Hall Friday, May 29th at 6:30 PM – Learn about next steps open opening unit activities and summer camp plans.
Click here for the video recording of the Town Hall on 5/29/20
Please click here for a Training on Using online video tools
Please click here for a National FAQ regarding advancement.
Please click here for a Council FAQ. This should help answer many of your questions about Council, District and Unit operations to help keep Scouting going.
Please click here for Updates regarding COVID-19 and Scouting.