ROUNDTABLE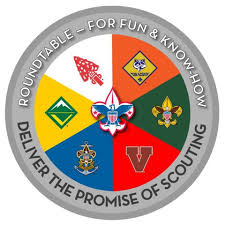 What is Roundtable:
Roundtable is a form of commissioner service and supplemental training for volunteers at the unit level. The objectives of roundtables are to provide leaders with program ideas; information on policy and events; and training opportunities. Roundtables have 2 focus areas: Cub Scouts and Scouts BSA/Venturing.
When are they:
The Council Roundtable is held the 1st Tuesday of every month. This is only offered online via the Zoom video and conference system. You can find more about the Council use of Zoom by click here. We promote the upcoming classes by use of District emails, Scoutbook Communication and the Councils Facebook Water Cooler group. The login information is posted on the Council Calendar and on the Water Cooler
As we move forward in the use of technology, we will show you how to use the new programs and answer your questions.
After each Council Roundtable the video will be uploaded for your review. We strongly encourage attendance, as that is the only way to make sure that your question(s) get answered.
Past Roundtables:
November 2022 – Welcoming New Scouts & New Families
October 2022 – Rechartering
July 2022
March 2022
District Merger – Announcement and status about the upcoming District Mergers
Due to technical errors the Cub & Scout Roundtable recordings did not occur.
February 2022
First Aid and the BSA – Learn about Safe Scouting Moments, First Aid Kits, Incident Reporting and more!
January 2022
Pinewood Derby – Learn the basics of building a Pinewood Derby Car
Service Projects – Get all of your questions answered about planning and executing service projects
November 2021
How to use the Council Calendar
October 2021
Council site on Rechartering
National site on Rechartering
Internet Advancement – access to recharter for Key 3 and Key 3 Delegates
May 2021
Merit Badge Sign Up for Summer Camp
Council Roundtable – Program Planning
All Roundtable with Scouts BSA/Crew Breakout
April 2021
IW Roundtable – Presentation on Charter Organization Reps
AD Roundtable – Presentation on Charter Organization Reps
January 2021
IW Roundtable – Leadership, Succession and running a good meeting
November 2020
IW Roundtable – How to run online meetings, campouts, award ceremonies. Showed the National video skills resources available
August 2020
June 2020
March 2020
Online Registration for Events
Online Merit Badge Signup for Summer Camp
April 2019
Scoutbook for Packs Q&A – showing use of the Scoutbook system and answering some of the most commonly asked questions by Packs.