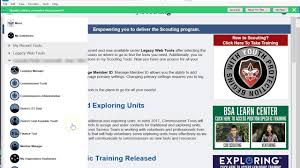 My.Scouting
My.Scouting is the main interface to take any and all training. You can reach it by clicking here or by downloading the IOS/Android app.
From here you can:
Take Training
Enter Advancement (Internet Advancement 2.0)
Manage Unit Membership
Manage Unit Training records
Manage Journey to Excellence (JTE)
Manage your BeAScout pin
Process applications
Some of these functions are only available to the Unit's Key 3 (Charter Rep, Committee Chair, Primary Unit Leader) or Scouters designated by the Unit Key 3
Support
There are detailed help files in each of the tools inside of My.Scouting.
If you are having trouble accessing your account:
Try the forgot username/password – If you email is not correct in our system, you will not get the recovery email. Be sure to check your spam folder
If you still can't get in, there is a little blue circle with a chat icon in the bottom right. You can request a reset/access. You will generally need Name, DOB and Member ID. If you do not know your Member ID a Key 3 from your Unit can access this through Scoutbook or My.Scouting.
If you do not have the tools for your position, you may have multiple ID numbers. If you know the other numbers:
Log into My.Scouting
Menu then Manage Member ID
You will see the logged in ID at the bottom
In the grey box select the Council the other ID belongs to
The next grey box enter the other Member ID
Click the green ADD button.
All set, you have now merged the ID numbers
If you don't know the other number(s) then submit a tech support ticket